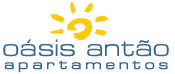 Welcome to Oasis Antao Apartments!
Oasis Antao Apartments is dedicated to making it possible for you to experience the Algarve in your own way by providing you with your private tourist apartment situated near Algarve's best beaches, in the Albufeira region of the Algarve. We have been in business for fourteen years, and have numerous satisifed customers that return to Oasis Apartments year after year. We welcome you to experience the Algarve in your own way.
Tourist Apartments are apartments which are rented exclusively to tourists, and are available on a daily, weekly, and monthly basis. All apartments include a fully equipped kitchen, private bathroom with shower, and choice of studio, or one or two bedroom suites. All apartments have been designed using the industry standard design (T0, T1, and T2). Oasis Antao Apartments offers tourist apartments at two locations in Algarve, Portugal:
Acoteias Apartments
Located in the Acoteias section of Albufeira, near the Falesia beach.
Contact Information
Oasis Antao Apartments
Algarve, Portugal
Tel: 289-322-264
Mobile Tel: 91-972-8738
Electronic mail
Inquiries
Reservations


Copyright © 1998-2008 algarveportugal.com